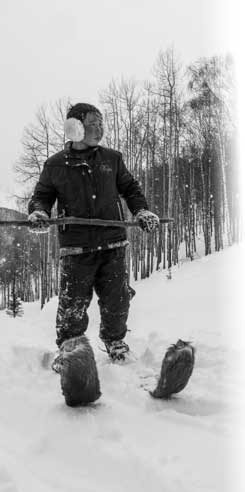 Deep in the Altai Mountains of North Asia skis are still considered an essential tool for travel and hunting during the long winters.
One pair of handmade skis carries the skier through thick forests, up and down rugged mountains, and across frozen lakes and streams…

Being avid backcountry skiers, we have been inspired by the do-it-all nature of the skis used in the Altai Mountains. It is from this that Altai Skis was born.
Whenever and Wherever
Our first ski, the Hok, is a ski to be used whenever and wherever there is snow. With a partial climbing skin integrated into the base, the ski climbs with ease. The skin also makes the ski slower and easier to control than traditional skis. The ski's short, wide design makes it incredibly maneuverable, ideal for thick woods and variable terrain, a truly all-purpose backcountry tool.
Backcountry Skiing
We believe that backcountry skiing is wherever you choose to go, whether it's out the back door for a quick tour in the woods, or to your nearby park, hills or mountains.
Our skis require no groomed areas, no lifts, no tickets,
In fact, they prefer it that way.