Altai Skis was conceived by Nils Larsen and Francois Sylvain in 2009.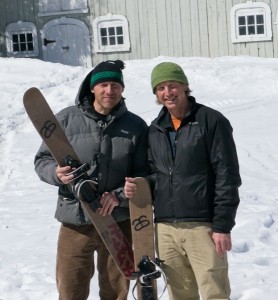 We both had extensive experience in the ski industry and had worked together designing nordic and backcountry skis for over ten years. We felt there was a great potential for skis designed for what we like to call 'pocket backcountry', the skiing many skiers have ready access to close to where they live. In both Quebec (Francois' home) and NE Washington (Nils' home), skiing out the back door or close to it offers us excellent and easy access to the winter world. We set to work on new designs, with the goal of creating easy to use and accessible gear to match the often overlooked skiing possibilities hiding in plain view.
Nils has been working on a documentary project on indigenous skiers in the remote Altai Mountains of Northern Asia since 2005. The ski traditions in the area date back thousands of years, possibly to the origins of skiing. The skiers in the Altai still use one ski design for all their skiing, whether it's a short trip to feed their livestock, over the hill to visit a neighbor, or a two-week hunting expedition deep into the rugged mountains. All skiing in the Altai is 'backcountry'.
This was the inspiration for Altai Skis, it defines the spirit of our company and it will drive our designs into the future.