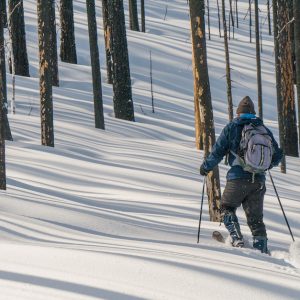 Altai Skis Backcountry Ski and Hok Festival 2023
Saturday February 18th from 10AM to 3PM on Boulder Pass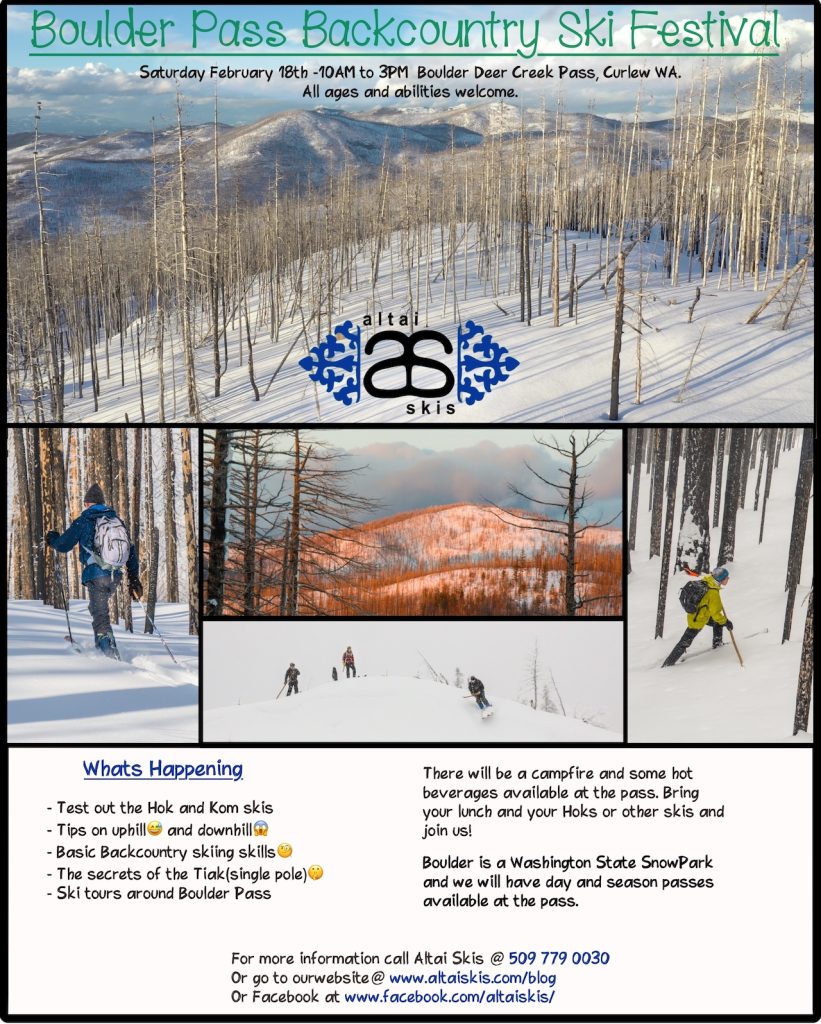 Altai Skis Backcountry Ski and Hok Festival 2023
Events and Activities
Saturday, February 18th from 10am to 3pm
– Demos of Altai Skis Hoks with universal pivot bindings (will fit any flexible soled shoe) as well as Hoks with 3 pin bindings, some 3 pin boots available. Demos also on the Altai Kom ski with 3 pin and 3 pin cable binding
– Bring your own skis or snowshoes as demos are generally not available to use for the whole day.
There will be clinics, tips, and tours throughout the day.
– Learn how to better use the Hoks, both uphill and downhill.
– Learn the many uses of the Tiak (single pole)
– There will be some short Tours of the area for all levels of skiers.
– Bring your own food for the day, there will be some fire pits going in the main area to the north of the pass.
– There will be a raffle drawing for al those attending so make sure you sign up when you get there

All ages and abilities are welcome
Boulder Pass is a Washington State Sno-Park so a Sno-Park pass is required to park at the pass. We will have discounted day passes as well as season passes available there for all who sign up.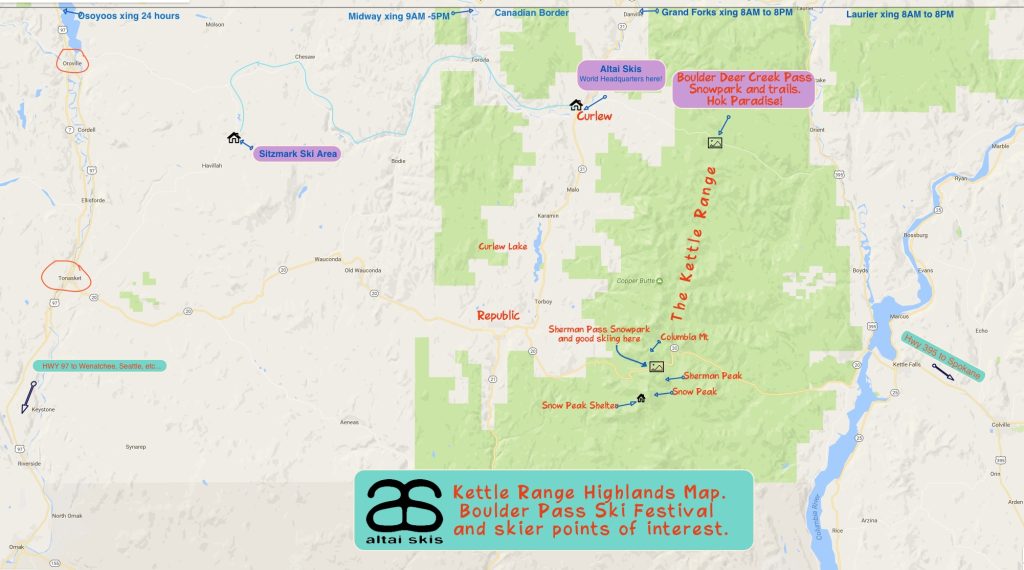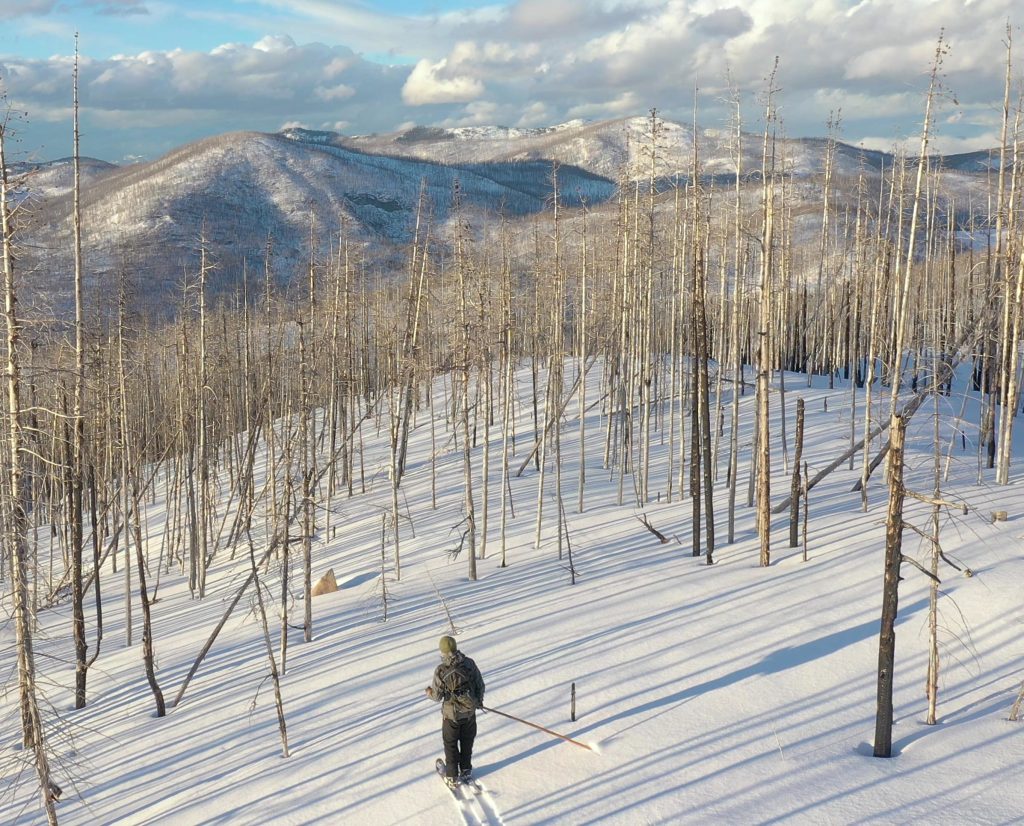 xzcx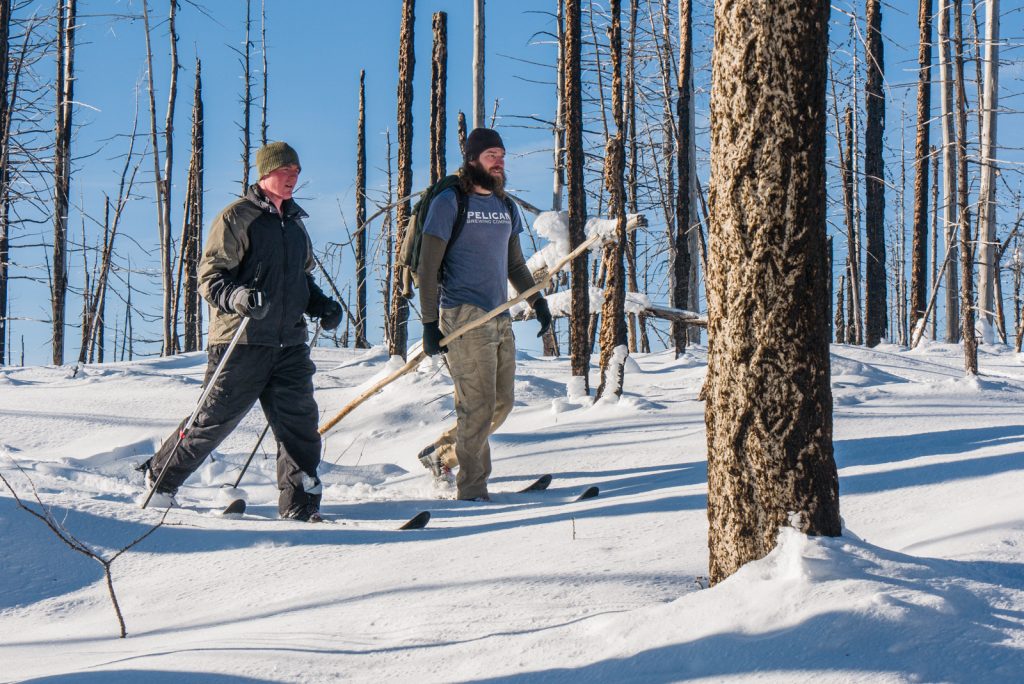 MORE INFORMATION
Boulder Pass had a very intense fire come through in 2015, burning especially hot around the pass area. Most all of the trees were killed in the areas we ski. As sad as this was it has made for incredible skiing, with most of the small wood and slash consumed in the fire. This has created a landscape where one can ski pretty much anywhere, particularly after a snow base has formed.
The terrain at the pass offers everything from flat roads and groomed trails to fairly steep and adventurous backcountry lines. The verticals around the pass are not too big – 300-500 vertical feet mostly – ideal for the no transition up and down ability of the Hoks. There is no avalanche hazard to speak of in the Boulder Pass area as well.
It would be hard to design a more ideal area for all levels of Hok skiing. The terrain is made for exploring with lots of ups and downs but nothing to big or difficult. The views are excellent and skiing is mostly through open skiable forest (mostly burned). Lots of animal tracks in the winter too, moose, deer, rabbits, ermine, marten, coyotes, and the occasional lynx or bobcat. Best of all, if you like solitude its easy to pick a direction and not see another track all day.
Activities
Boulder Pass is a rustic site with no indoor amenities. There are two outhouses and we will have some pop up tents for boots and equipment. There will be a large campfire as well.
Camping on site is permitted, expect winter camping conditions.
Places to stay in the region.
Grand Forks, BC (closest good sized town!)
There are place available on AirBNB and VRBO as well.
Curlew is pretty much a one horse town. There is a drive in restaurant – Tugboats. There is a recently upgraded bar downtown – The Curlew Saloon – that serves burgers (bison burgers!)and a good simple menu. Other amenities include a library, card lock (takes credit cards) gas station, post office, and some nice old buildings ( the Ansorge Hotel is especially nice). The store (downtown) is now open again until 6 PM on Saturdays, closed on Sundays.
Republic is the county seat (Ferry County) and has several restaurants (good pizza)and an excellent Brew Pub . There is also a good food store (Andersons), and a Coop.
Grand Forks, BC is the closest town with full amenities to Curlew and Boulder Pass. It's a larger town (4000+) and has quite a few good restaurants as well as a number of motels. Remember if you are crossing the border that you need a passport or and enhanced drivers license. The border crossing between Curlew and Grand Forks is open from 8am to 8pm. It is about a 15 minute drive between Curlew and GF.
Kettle Falls and Colville are both reasonably close to the pass (less then an hour)and have a variety of restaurants and hotels. Great coffee in Kettle Falls at Crandalls
Travel Routes to get here.
Main routes from the west (Seattle, etc) are up Hwy 97 to Tonasket then Hwy 20 east.
From the east (Spokane, etc) travel northwest on Hwy 395 all the way to Boulder Creek Rd.
From Canada travel to crossings: from the west- Osoyoos (24 hours), Midway (9am-5pm), Grand Forks (8am-8pm). From the east Laurie (8am-12am).
Curlew to Boulder Pass – 15 minutes
Colville to Boulder Pass – 50-55 Minutes
Kettle Falls to Boulder Pass – 40-45 Minutes
Republic to Boulder Pass -35-40 minutes
Wenatchee to Boulder Pass – 3.5 hours
Orville to Boulder Pass – 1 hour 35 minutes
Spokane to Boulder Pass – 2 hours and 20-30 minutes
Grand Forks BC to Boulder Pass – 35 minutes – Border is open 8 AM to 8PM, you need a passport or an enhanced drivers license.
Other places to check out for skiing (Sherman Pass ).
The 18th is the Saturday of Presidents Day weekend so anyone coming from out of the area should check out the area for other skiing opportunities.
Sherman Pass is the highest all season pass in the state at 5575 ft. The pass is on Hwy 20 and sits between Republic and Kettle Falls. There is excellent backcountry skiing for intermediate to advanced. Much of the area is forested, but there are some areas that have potential avalanche hazard. For those unfamiliar with the area there is an excellent Sherman Peak loop trail (6 miles) to the south and to the north a trail up Columbia Mt.
There is a WA State Snowpark at the summit as well- outhouse and parking, no groomed trails.
There is often good backcountry skiing all through the region at all elevations. This year has been unusually warm and lower elevation snow as of this writing is sparse…
Phoenix Ski Hill Grand Forks, BC. This is a small community ski hill and lots of fun – a T-Bar and a rope tow with about 800 vertical feet. Very folksie!